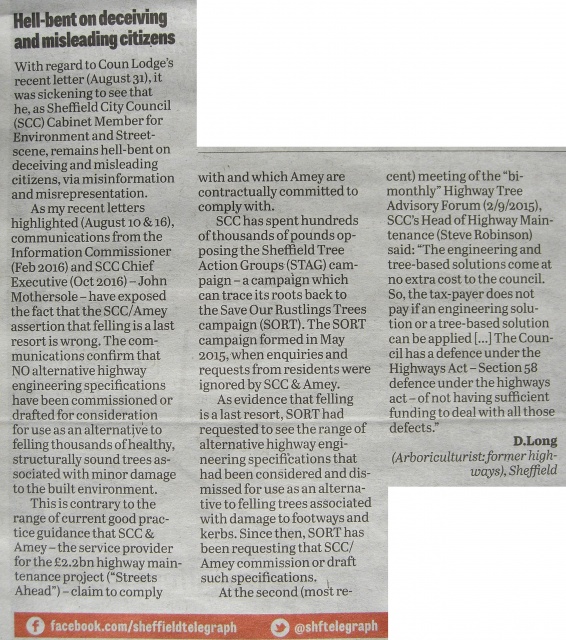 73.8% of Sheffield's street trees were mature when the £2.2bn "Streets Ahead" highway maintenance project began, in August 2012. On 9th March 2018, in response to a demand by the Information Commissioner, Sheffield City Council (SCC) released a redacted version of the PFI contract for the project (awarded to Amey). It reveals that SCC have set a target for the contractor (Amey) to FELL 200 MATURE STREET TREES PER YEAR with a total of 17,500 TO BE FELLED over a 25 year period (67.6% of mature street trees).
This is what the SCC Cabinet Member for Environment & Streetscene said about the target, when interviewed on BBC Radio Sheffield's Toby Foster at Breakfast programme (a transcript provided by Chris Rust - Co-Chair of Sheffield Tree Action Groups - STAG):
https://sheffieldtreemap.files.wordpress.com/2018/04/18-03-13-fosterllod...
You can listen to the interview here:
https://en-gb.facebook.com/groups/172025426593840/permalink/397546797375...
For detail, see:
https://www.yorkshirepost.co.uk/our-region/south-yorkshire/sheffield/she...
https://www.sheffield.gov.uk/home/roads-pavements/streets-ahead/streets-...
The contract does permit the contractor to request that fewer trees be felled, and it permits the Council to grant that permission. However, to quote the Council, as reported in The Yorkshire Post (newspaper):
"The spokeswoman said: […] If, at the end of the contract, a smaller number has been replaced, A FINANCIAL ADJUSTMENT WILL BE MADE.
[...]
The council has now confirmed to The Yorkshire Post that NO FORMAL AGREEMENT HAS BEEN MADE TO CHANGE THE CONTRACT and a spokeswoman said THERE IS NO INTENTION TO...".
SOURCE:
https://www.yorkshirepost.co.uk/news/sheffield-council-confirms-contract...
As the contractor will receive a reduced payment if 17,500 street trees are not felled, and as the contractor makes greater profit by felling mature trees, there is no incentive for the contractor not to fell so many. To make matters worse, SCC rely heavily on the contractor monitoring, auditing and reporting on their own work. See:
https://www.change.org/p/sheffield-city-council-streetsahead-sheffield-g...
*****
THE CONTRACTOR (AMEY) IS ALSO TASKED WITH HANDLING AND INVESTIGATING ALL ENQUIRIES AND COMPLAINTS ABOUT THEIR OWN WORK, ON BEHALF OF SCC
From Sheffield Tree Action Groups (STAG) Facebook (posted by Cathie Rainbow, on 12th March 2018):
Interesting ! I put in official complaint to Sheffield Council re trees and got response ! Is this normal for Sheffield Council to pass my details to the person I am in fact complaing about ?
I asked if response was from SCC and got this reply.
"Thank you for your email dated 2 March 2018.
I can confirm that I am an Amey employee.
For your information, I can confirm that AMEY HAS DESIGNATED POWERS TO RESPOND ON BEHALF OF THE COUNCIL ON ALL MATTERS PERTAINING TO STREETS AHEAD WORKS, INCLUDING THE HANDLING AND INVESTIGATION OF COMPLAINTS.
All complaints are handled in accordance with the Council's Customer Complaints procedure and the Council retains an oversight of all Streets Ahead complaints handled, including this one. I can confirm, therefore, that the Council is aware of your complaint and has reviewed this response prior to it being sent to you.
As previously advised, at this stage you do have the right to ask for your complaint to be reviewed by a more senior manager.
To request this please contact me via streetsahead@sheffield.gov.uk or by telephone on (0114) 273 4567, giving details of why you are not satisfied and what further action you want to be taken.
Kind regards
Jeremy Willis
Operations Manager
Customer Services (Amey)
Tel: 0114 273 4567
Email: streetsahead@sheffield.gov.uk "
SOURCE:
https://en-gb.facebook.com/groups/392913244219104/permalink/919952641515...