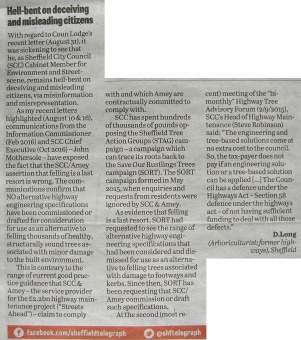 73.8% of Sheffield's street trees were mature when the £2.2bn "Streets Ahead" highway maintenance project began, in August 2012. On 9th March 2018, in response to a demand by the Information Commissioner, Sheffield City Council (SCC) released a redacted version of the PFI contract for the project (awarded to Amey). It reveals that SCC have set a target for the contractor (Amey) to FELL 200 MATURE STREET TREES PER YEAR with a total of 17,500 TO BE FELLED over a 25 year period (67.6% of mature street trees).
The date of the next meeting will be Wednesday 24th September at The Venue at 7pm. AGENDA 1. Police report 2. Youth Centre and uses for the Building 3. Gritting in the Valley 4. The Friendship 5. What's happening in our town centre? 6. News
From 22nd until 27th September the Hub on Manchester Road in Stocksbridge will be hosting the 'Stocksbridge Energy Future' exhibition. The aim of the event is to explore the potential for generating energy from renewable energy resources in the Stocksbridge area. The exhibition explores how renewable energy is currently used in the valley. It also explores how different technologies could be used to produce more energy locally. At the exhibition you can see a wonderful model of the valley made by the Sheffield University's architecture department.